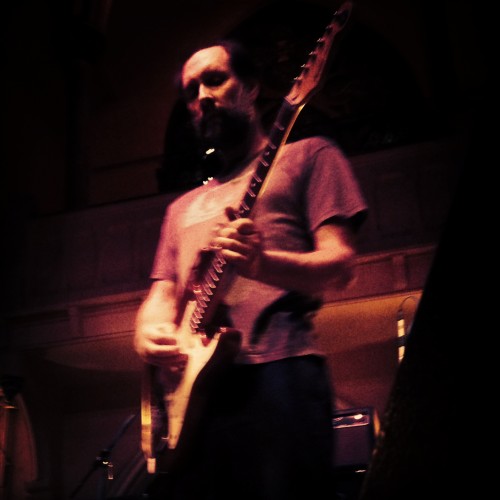 I took this picture. This is how close I was to Doug. Notice how there is no one in front of me. I- Calthizor- was the closest person to Doug in the building (this includes bandmates). I inhaled every beard-ridden ounce of air that exited Doug's lungs. This, however, also means that I was the closest person to Doug's amp (except for him :P). I lost a significant amount of hearing for about two days, but I would have sacrificed other, more dangly body parts, to do it all again. I'M GONNA GIVE YOU A FUCKING LIST NOW!
1. The Venue- Epic. It was an old church that was gutted out save the stage and a bar in the back. Even standing at the back of the room yielded an excellent view. #small #beers #eeriechurchyvibethatworkedperfectly
2. Beers- Two-Hearted, that is all.
3. Shirts- I got a cool shirt.
4. Opening Bands- Slamdunk, and Genders. Never heard of either of them before but both did their thing well.
Finally, at about 11ish, a bunch of middle aged guys took the stage and rocked the shit out of everyone. They opened up with Velvet Waltz, a performance that sent shivers down the spines of the weak or slightly gassy. It was one of my top songs of the night on a list which included Carry the Zero, The Plan, Big Dipper (nice surprise), I Would Hurt a Fly, Goin' Against Your Mind, and You Were Right. If I had to pick though, I would say The Plan was the best of the night. That song absolutely changes live. Goin' Against Your Mind was also pretty memorable but for a different reason. It was the finale song of the night and about 30 seconds into it Doug's guitar cut out. He got down on his knees and fiddled with his pedalboard (this is all happening right in my face), for about 5 minutes as the band kept the song going. Doug, being the ever-stoic man he is, is unfazed. He says "F' it" and finally plugs his guitar straight into his amp and proceeds to shred.
Ben, if you're reading this…. You missed out. (I'll let you try on my t-shirt)
Overall, best concert I've been too. It would have been nice if they had some form of a light show going for effect, but they really didn't need it. I've waited a very long time to see one of my favorite bands ever, and it was worth it. Next on the list is the purple-clad shred machine that is J. Mascis.
*I also got a picture of Doug's pedalboard for any who are interested, you can't see like 2 or 3 of them but most are visible.